Last night and this whole day have been a whirled wind of emotions. I'm so stress that I am having tremendous trouble writing this blog post.
One extremely tried brain X unbelievable stress + dyslexia = words that even spell check can't help out with
So I will make it
"short and sweet
"....just like my Cara (good one eh??)
I should clam rights!!
Anyways get to the
good stuff right?
So I will start with the
bad news
...
Time is running out
for all of you to enter a mega blog warming gift give away at Candy Hearts click
HERE
to enter, HURRY GO NOW...CHECK IT OUT IT'S HUGE AND ENDING SOON!!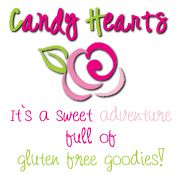 BUT WAIT, THERE IS SOME GOOD NEWS
You can click
HERE
to stop by The Princes and The Pump and you can enter to win a perfectly practical gift of your choice valued up to $45...STOP BY AND CHECK IT OUT, IT REALLY IS JUST PERFECT!!