Gooooood Monday Morning :)
Nicole here with a few wonderful ways to start your Manic Monday Morning off right!!
First start this wonderful Monday morning with a little reading, The We CARA Lot Blog has been featured on The D-Mom Blog. Get to know us a little better and ENJOY!
Next,
if you are feeling lucky what better way to start your week off then with an amazing 3 Treat giveaway...This sugar bolus will keep you styl'n and organized and the envy of any D mama :)
(Not sure what a Sugar Bolus is? Visit

Candy Hearts

to learn more about it.)
Check out this amazing NO TRICKS just TREATS giveaway visit
Life is Like a Box of Chocolates
and Enter for your chance to win
(make sure to read all the rules)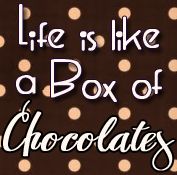 and something a little different for all those D bloggers, facebookers and tweeters out there on Thursday October 7th
Ninjabetic

( click HERE to read more)
is wondering if you can handle a day WITHOUT DIABETES??
Also bloggers don't forget about the Blogger Basal, if you would like a blog post to be share in this unique way stop by
The Princess and The Pump
to submit your post on or before October 15th.
A little bit about BLOGGER BASAL
Blogger Basal is a monthly round up of posts compiled into one big summary.
Rules for URL submissions:
1) Must be (mostly) family friendly. Rants are welcome. Porn is not. Get it?
2) URLs are due on the 3rd Friday of the month. PERIOD.
Please submit your URL on time for inclusion in the current month's edition.
3) Only one URL per author per month please.
and if your looking for something to watch this glorious Monday have a look, thanks to
Heidi over at D-tales
for sharing :)
Wonderful job Zach and thanks to Disney for airing it!!